DRIVING THE FINANCIALS OF THE AUTOMOTIVE MARKET – FOR YOU.
At Keogh Ryan Tierney, one of our key differentiators is our specialisation – and the finely- focused services we provide to specific industry sectors. One of these is the motor industry sector– a key area of expertise and passion of the firm's partner, Paul Tierney. 
Paul's team brings to your business an in-depth understanding of the automotive market – which means we don't just provide an audit and tax solution. Rather we work within the context of your industry – delivering a financial service that is uniquely adapted to suit your business and its challenging landscape.
It's about focused, relevant and informed support, advice and insight. It's about working with real-time results, data, trends and challenges – so that you have the information you need to make informed decisions, and can be sure you are best-placed to succeed. It's just one of the ways we at Keogh Ryan Tierney provide strength through focus.
WHERE EXPERTISE MEETS EXCELLANCE
Partner Paul Tierney has an active and informed interest in the financial world of the motor industry, and is a recognised and respected expert. Paul and his specialised team have the financial models, speak your language and understand the opportunities and obstacles you face as a key player in the fast-developing automotive industry.
WE HAVE THE INSIDE TRACK
We understand that as part of the highly-competitive motor industry sector, your business operates in a high- cost, low-profit margin environment. We have an inherent appreciation for the cyclical nature of vehicle sales and how it can affect cash flow and stock funding.
Experience has shown us that many motor dealerships overlook the profitability of each sale in its pursuit of achieving overall targets. With this in mind, we are able to partner with you to monitor and manage key aspects of your operation. These can include effective control of cash flow by managing your used car stocks. We will also ensure that profits and margins are managed daily, to ensure your business is not overly-reliant on your sales department for sales; key performance indicators of other business divisions such as workshop parts and car hire also need to be maintained and monitored.
From stock holding levels to wage percentages and levels of turnover – we know how the market is measuring up. This means everything we do for you is informed by real time facts and figures. We can interpret market changes and help you plan ahead with insight.
We can, confidentially, provide you with financial data to understand where your business ranks within your industry.
We'll help you align your financial management with your main challenges and opportunities over the next three years.
We identify trends, what they mean for you and advise how to act with foresight.
We help you identify challenges and opportunities over the next three year cycle.
We understand the positioning of banks and how they work with the motor sector.
We'll work with you to develop a staff recruitment approach that's right for you and help you balance financial health with talent management.
AUDITING AND YOUR MOTORING BUSINESS
The motor industry knowledge we have built up gives our clients an immediate head start: essential in undertaking a meaningful, efficient and value-for-money audit. We make sure that both the audit senior and audit junior who work on your account will have sound motor industry experience – so that they work with you from a place of understanding and insight. Whether it's VRT, washout, composites or dealer rebates – all staff with whom you interact will understand key concepts specific to your industry territory.
A second key differentiator you'll enjoy is continuity of staff. You will have the same audit partner, audit manager, tax partner and tax manager each year – so we can build up a smooth, complete picture of your account without gaps or unnecessary handovers.
Our company also works to a strict auditing timeline process, giving you the benefit of:
No-delays – we normally begin auditing 5 to 6 weeks after the company's year end.
Time-efficiency – we commit to having the closing meeting with directors no later than 3 months after year end. We are then able to ensure that all audit, corporation tax and personal tax compliance work is completed in the first quarter of the fiscal year.
Thinking ahead – we undertake a substantial amount of audit work prior to year end – made possible due to the cyclical nature of the motor industry. For example – for convenience sake, we give clients with a 31 December year-end the option of interim-testing in November or December – normally a quieter period of the year. This significantly reduces the length of the final audit.
Thorough systems – to ensure there are no last-minute filing panics, we keep a register that details filing deadlines for all clients – for personal tax, corporation tax and company annual returns.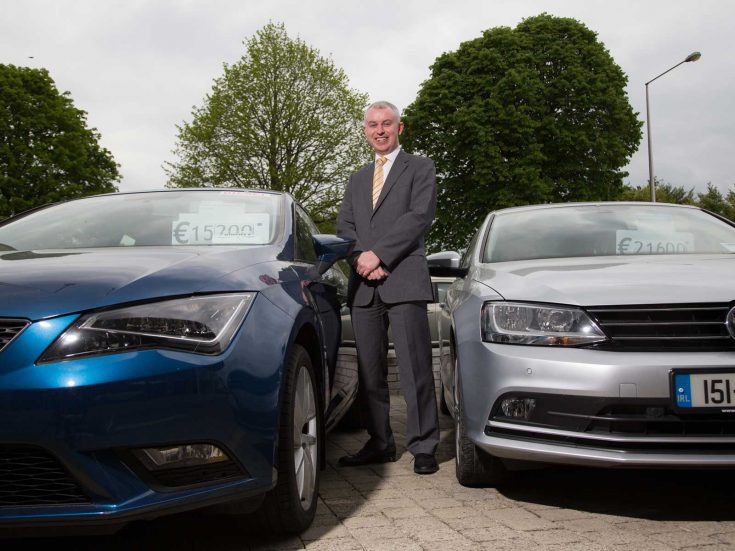 AUTOMOTIVE AND TAX – GET IN THE DRIVER'S SEAT
Tax compliancy is obviously an important consideration when navigating the demands of your industry. Just some of the challenges you might face are the Revenue consequences of importing used cars – while Vehicle Registration Tax and VAT within the margin scheme present dealerships with their own special demands.
Whether you're a company director or a dealership, we can help you fulfil your requirements to ensure you are prepared for Revenue Audits.
Our tax department provides a full-spectrum service, including:
 Advice on personal income tax
Corporate tax structuring
Advice on VAT, VAT compliance and returns
Pre-Revenue audit reviews
Financial statements in IXBRL format
Succession planning
ARE YOU SALES-READY?
Fast-track facts on buying and selling a dealership
Succession is a challenge for all industries – but it can be especially so within the motor trade as many businesses are family-owned, making succession within the family, likely. We are here to advise and assist on all possible scenarios:
If you are planning to sell, we will:
Help ensure that the ownership process is streamlined, especially important when a number of family members and several different generations are involved.
Address any relevant property ownership issues and help ensure that any investment necessary to bring property up to standard, is completed.
Ensure that stock holding and banking needs are in control.
Bring key operating metrics in line with industry norms.
Help with the sale process if required.
If you are planning to pass the business on to the next generation, we will
Help you ascertain if the family members WANT to work in the industry – and whether they have the ability or need to be trained. Do you need to test their interest – and is it real?
Help you consider what role within the business might be right for them.
Help you take into account ALL siblings when transferring ownership.
Remember – it's never too early to consider a succession plan.
YOUR TEAM
Please contact Paul Tierney or John Riordan for more information:
Paul Tierney – Audit Partner – paul.tierney@keoghryanyierney.ie
John Riordan – Specialist Manager – john.riordan@keoghryantierney.ie
< Back to Insights